Tamarisk Village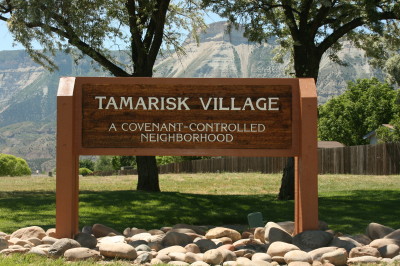 Tamarisk Village is a 181 property, single-family home Village in Battlement Mesa, Colorado; a community that is nestled on a sheltered mesa with dramatic mountain and river valley views and lots of Western charm. This family-friendly village is close to the Bea Underwood Elementary School.
All of the homes in Tamarisk Village are manufactured homes which makes this Village one of the more affordable communities in Battlement Mesa. Numerous homes styles, sizes and floor plans are available. Lot sizes range from 6,000 to 12,000 sq. ft. in size. Front lawn sprinkler system maintenance and water is covered by an annual $220.00 maintenance fee and the services are provided by the Battlement Mesa Service Associaton.
Like all of Battlement Mesa, village owners have many opportunities to enjoy the area's abundant wildlife including fox, deer, elk and sometimes bear.
Owners in Tamarisk Village belong to the Battlement Mesa Service Association, (BMSA, the master HOA), thus owners can purchase here knowing that, like all of the Battlement Mesa PUD, the community is covenant protected. The Village is represented on the BMSA board of directors by a Village Delegate/Board member which is elected by the members and serves a three year term.
Additional information about the BMSA, including bylaws, covenants, budget, reserve funds and financial statements, is available Here: Battlement Mesa Service Association.
Village Delegate/BMSA Board Member: Amy Provstgaard
---
"Just the Facts" Summary
---
Category
Description
Sub-Association of BMSA
No
Housing Type

960 sq. ft. and larger, manufactured single family homes on 6,000 to 12,000 sq. ft. lots.

Number of Units
181
Association Development Status
181 of 181 Properties Developed
Minimum Sq. Ft.
Single-family, single level homes from XXXX sq.ft. and up.
Garages
Attached 2 car garages.
HOA Fees

BMSA - $308.00/Yr.

BMSA Front Lawn Sprinkler System Maintenance and Water - $220.00/Yr.
Residential Water and Sewer Fees
Owners Responsibility
Irrigation Water Cost
Owner Responsibility.
Trash Pickup
Trash Assessment fee of $197.00/Yr.
Snow Removal
Street snow removal services are provided by Garfield County at no additional cost to the homeowner.
Landscape Maintenance
Owner Responsibility. (Sprinkler system maintenance and irrigation water provided via a BMSA assessment). See HOA Fees, above.
Exterior Building Maintenance
Owner Responsibility.
Structure Insurance
Owner Responsibility.
Street Parking Allowed
Yes, except on designated snow plowing routes Novermber to April.
Fences Allowed
Approved fences are allowed
Map of Tamarisk Village