The Reserve Village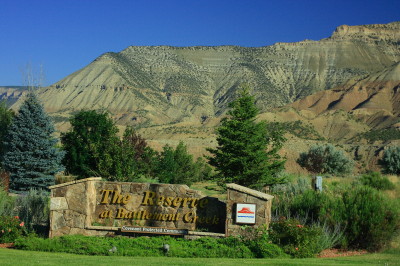 The Reserve is a 53 property, single-family home Village in Battlement Mesa, Colorado; a community that is nestled on a sheltered mesa with dramatic mountain and river valley views and lots of Western charm. Most of these one-half to one acre lots are on the Award-Winning Battlement Mesa Golf Course. Residents of The Reserve have gorgeous views from executive-style, custom-built homes. Owners enjoy expansive views of the Roan Plateau, the Colorado River Valley and the ruggedly beautiful battlements for which Battlement Mesa was named. Minimum home size is 2,200 sq. ft. (main floor) but many are much larger. Many prime building sites are still available.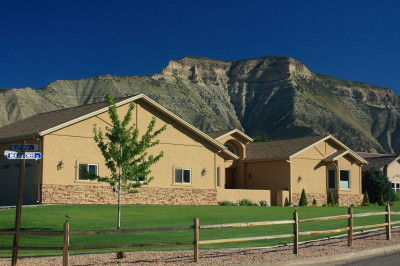 The large one-half to one acre lots provide ideal opportunities for owners to surround their homes with a combination of landscaping including well-manicured turf grass areas, native grasses, brush and trees. The expansive open areas within The Reserve are great deer, elk, bear and other wildlife habitat.
Golfers love The Reserve because "its on the golf course" and non-golfers love the peaceful views of the valley, the mountains, the river and the abundant wildlife. Families love the large spacious homes.
Owners in The Reserve belong to the Battlement Mesa Service Association, (BMSA,the master HOA), thus owners can purchase and build here knowing that, like all of the Battlement Mesa PUD, the community is covenant protected. The Village is represented on the BMSA board of directors by a Village Delegate/Board member which is elected by the members and serves a three year term.
Additional information about the BMSA, including bylaws, covenants, budget, reserve funds and financial statements, is available Here: Battlement Mesa Service Association.
Village Delegate/BMSA Board Member: Jane Edwards
---
"Just the Facts" Summary
---
| Category | Description |
| --- | --- |
| Sub-Association of BMSA | No |
| Housing Type | 2,200 sq. ft. and larger, custom-built single family homes on one-half to one acre lots. |
| Number of Units | 53 |
| Association Development Status | 35 of 53 Properties Developed |
| Minimum Sq. Ft. | Single-family one and two level homes from 2,200 sq.ft. (main floor) and up. |
| Garages | Attached 2 and 3 car garages. |
| HOA Fees | BMSA - $308.00/Yr. |
| Residential Water and Sewer Fees | Owners Responsibility |
| Irrigation Water Cost | Owner Responsibility. |
| Trash Pickup | Trash Assessment fee of $197.00/Yr. |
| Snow Removal | Street snow removal services are provided by Garfield County at no additional cost to the homeowner. |
| Landscape Maintenance | Owner Responsibility. |
| Exterior Building Maintenance | Owner Responsibility. |
| Structure Insurance | Owner Responsibility. |
| Street Parking Allowed | Yes, except on designated snow plowing routes Novermber to April. |
| Fences Allowed | Approved fences are allowed |
Map of The Reserve