Outdoor Adventures
Of course, Battlement Mesa offers the "traditional" outdoor activities. We have nearly 6 miles of "in-town" trails for hiking, jogging and biking. We offer fishing on the Colorado River which forms the north boundary of our community. A wonderful golfing experience is available at our award-winning golf course, designed by Joe Finger and Ken Dye, and tennis courts are awaiting you at the 53,000 sq. ft.Battlement Mesa Activity Center, but our outdoor activities don't stop there!
Since Battlement Mesa's "back door" is western Colorado's Great Outdoors, many additional opportunities abound. Here are just a few Outdoor Adventures that might appeal to you.
High Lonesome Ranch
The High Lonesome Ranch is located at Debeque, a mere 15 minute drive from Battlement Mesa. Here you'll find some real Western Colorado Ranch activities. Check it out here: High Lonesome Ranch
Back County Wilderness Experience
If you love the out-of-doors and really want to "get away" from cell phones and the crowds, explore the Flat Tops Wilderness area a short drive northeast of Battlement Mesa. The 235,406 acre Flat Tops Wilderness was established in 1975 and is the next to largest Wilderness area in Colorado. Arthur Carhart's 1919 visit to Trappers Lake in the Flat Tops prompted him to be the first U.S. Forest Service official to initiate a plea for Wilderness preservation which lead to the establishment of a Flat Tops Primitive Area designation in 1932. If you are seeking a wilderness experience, you'll love the Flat Tops Wilderness area's majestic volcanic cliffs, vast subalpine terrain, dozens of lakes and ponds, many of which are still unnamed, and its miles of fishable streams. Check it out here: The Flat Tops Wilderness
Four-Wheeling and Rock Crawling
The trailhead to one of Colorado's most challenging four-wheeling and rock-crawling trails is minutes away from Battlement Mesa. Drive out on 302 road until the civilized road ends and you will have found the trail head. Officially known at U.S. Forest Service Trail #2160, this trail experience will reward the successful with a beautiful view of Battlement reservior at the end of a grueling trail. Be forewarned, it isn't for the inexperienced or the unprepared! Learn more at: Trail Damage.com
Glenwood Caverns
Admittedly it is an indoor, or more correctly "in-cave" experience, but for those seeking a real cave crawling adventure are sure to love the Wild Tour at Glenwood Caverns; a mere 30 minute drive east of Battlement Mesa. Explore the "almost unexplored!" The Wild Tour will give you oportunities to "skinny through" passageways as small as eighteen inches square. This tour is not recommended for those that are claustrophobic or have problems crawling on their hands and knees for extended periods of time. If the Wild Tour exceeds your limits, the Cavern's Walking Cave Tour, may be more to your liking. Learn more at: Wild Cave Tours and Walking Cave Tours
White Water Rafting
Remember, Battlement Mesa is "on the Colorado River" so excellent white water rafting can't be far away. This part of Colorado is a white water rafting mecca. Enjoy the area's challenging rafting opportunities while you watch some of the most beautiful scenery in Colorado "flash by" if you dare glance away from the rapids ahead of you. You'll find several providers in the area. Here are two that you may want to contact: Colorado Whitewater Rafting and Rock Gardens Rafting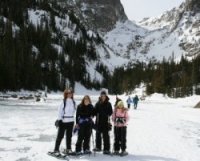 Snow Shoeing
Many Battlement Mesa residents and visitors raft in the summer and ski, snowboard and snow shoe in the winter! Sure we're close to some of the best downhill and cross-country skiing and snow boarding in the country. Everyone knows that, but many people don't realize that Colorado's Great Outdoors - like White River National Forest and the Grand Mesa National Forest - are great nearby destinations for that Rocky Mountain High snow shoeing experience. You don't own snow shoes? No problem! You can rent snow shoes at many locations like Sunlight Mountain Resort, and Powderhorn Grand Mesa.

Big Game Hunting
John Axelson's "Big Game Hunter's Guide to Colorado" describes Garfield County (where Battlement Mesa is located) as "another Colorado community that caters to big game hunters. With its close proximity to the White River National Forest, the Grand Mesa National Forest, and the BLM lands, there are literally thousands of acres of public lands...and Garfield County is also a well-known producer of trophy mule deer, and there are large numbers of elk in the area. This area also holds good opportunities for hunters interested in pursuing mountain lion and black bear." Axelson continues with, ..."the Roan Plateau" (immediately north of Battlement Mesa) "offers exceptional deer and elk hunting." Here is an example of one of the area's many outfitters: Winterhawk Outfitters, Inc.
Mountain Climbing
Climbing one or all of Colorado's fifty-four "fourteeners" (mountain peaks greater that 14,000 ft elevation) is on the "bucket list" of many Americans. If you are among this group, western Colorado is "in your future" and Battlement Mesa is a great place to begin your point of departure. For more information check out: 14ers.com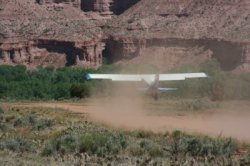 Mountain Flying Training
Pilots with hundreds or even thousands of hours of flight time need to have mountain flying training before they venture into the high terrain in the Rocky Mountain Region. If you are a pilot that plans to fly in or near the Rocky Mountains why not visit the region and gain that "life saving" mountain training that you've longed for. Whether you are an experienced pilot seeking mountain flying training, just want to learn to fly, or own your own airplane and want to have the pleasure of flying without a lot of restricted airspace while enjoying the magnificent west, you should plan to visit or perhaps even relocate to Battlement Mesa. Mountain flying training is available at our two nearest airports: Garfield County Regional Airport (KRIL) and Grand Junction Regional Airport. For more information about flight training or basing your aircraft here check out: Colorado Flight Center and Garfield County Regional Airport (KRIL)