Mesa Vista Assisted Living Residence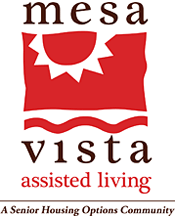 Assisted living services are available in Battlement Mesa, Colorado at the Mesa Vista Living Residence, 72 Sipprelle Drive. Mesa Vista Assisted Living Residence is a 40 bed, Medicaid Certified facility.
Ownership Information
Corporate Non-Profit


Contact Information:
970.285.1844
970.285.6351 Fax
mesavistaseniorhousingoptions.org
Kathy Badau, Administrator
Michael Farrell, Day Program Activity Director
MFarrell@seniorhousingoptions.org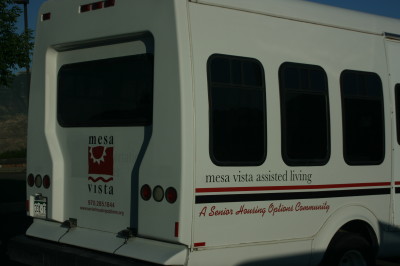 Mesa Vista Assisted Living Residence is a unique five-acre community within Battlement Mesa, Colorado on Colorado's westernslope between Grand Junction and Glenwood Springs. Battlement Mesa, in Garfield County, Colorado, is an unincorporated community located on a mesa above the Colorado River at an elevation of about 5,000 ft. and nestled on a climate-protected mesa below the infamous Battlements for which Battlement Mesa was named. Battlement Mesa residents enjoy almost 300 days of sunshine each year.
Since opening in 1999, Mesa Vista has provided assisted living services. The facility is designed around an open-air central courtyard in a lodge-like style which allows residents a variety of areas where they can relax and enjoy time with their family and friends.
Mesa Vista Assisted Living provides regular bus outings so residents can enjoy the beautiful mountain views, the Colorado River, and the aboundant wildlife including deer, elk, coyotes and occasional bobcats, bear and bald eagles. More Information: http://seniorhousingoptions.org/properties/mesa-vista/