Mt. Callahan Community Fund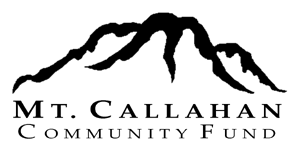 The Mt. Callahan Community Fund (MCCF), an endowed charitable fund serving Battlement Mesa and Parachute, was created in 2002 and is managed by the Western Colorado Community Foundation. Under the guidance and energy of Mary Ann McKinley and a $25,000 initial donation from Unocal, a matching grant from the Boettcher Foundation was obtained and the MCCF fund was established. Today the fund has grown to approximately $100,000 and has granted in excess of $70,000 to worthy causes and organizations in the Battlement Mesa and Parachute area.
Throughout its ten year history, the MCCF has benefited from the generosity of many area residents and government/business entities whom deeply care about our community. Although funding is critical to the success of the MCCF, the organization could not achieve its goals without the personal time commitment from many area residents. Among these volunteers is the current steering committee who accepts and reviews grant applications, coordinates our activities and assures the distribution of grants. These tireless champions are Barbara Pavlin and Sara McCurdy (co-chairs), Sherry Johnson, Mary Lee Morhlang and Jennifer Richardson. Many other, non-steering committee, members give generous amounts of their time.
If you would like to support your community through the Mt. Callahan Community Fund, please contact any member of the steering committee. Local Contact: Barb Pavlin. 970.285.7634.